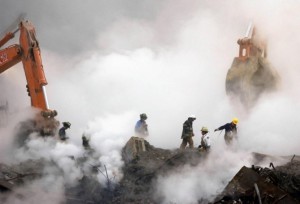 Thousands of cops, firefighters and other first responders sickened after working at the 9/11 site, and the families of those who were injured or killed, may be able to claim $10,000, or the last three years of taxes the victim paid, whichever amount is larger.  In an exclusive today, it was reported that many who received payments from disabilities either because they were injured directly or as a result of responding to the terrorist attacks on 9/11 did not claim the tax refunds and credits they were entitled to because the IRS failed to update its public guidance.  Under a federal law passed months after the attacks, disability income resulting from terrorism is not taxable.
The Daily News Reported that:   "Sen. Kirsten Gillibrand, whose office learned of the benefit from an ailing recovery worker, thought she'd got somewhere in April when IRS head John Koskinen told her the agency would update its guidance.  Three months later, it hasn't.  Gillibrand's office is still helping refund seekers who have been rebuffed by the IRS and is pushing for swifter action.
Gillibrand spoke on the phone Friday with Koskinen. He pledged immediate action to address the issue, her office said.
"The senator appreciates the commissioner's personal commitment to resolving this issue quickly," said Gillibrand spokesman Glen Caplin.
But advocates for victims still fear lower-level officials will drag their feet until next year, leaving those who are eligible at risk of losing out. Victims have to file for refunds within three years of diagnosis, and families of those who died must file within three years of the date of death.
"The IRS needs to update their publications as soon as possible or disabled 9/11 responders and survivors will lose another year of this tax relief, as will the families of those who died from their 9/11 injury," said Ben Chevat, who heads 9/11 Healthwatch, a nonprofit monitoring benefit programs for attack victims.
Two victims who asked not be named said the IRS initially rejected their refund claims. They received tax relief after Gillibrand's office intervened."   Daily News Exclusive.
The Zadroga Victim Compensation Fund now allows recovery not only for respiratory illnesses, but also for many types of cancers suffered by first responders as a result of being exposed to toxic dust in the aftermath of the attacks, which included carcinogens such as asbestos, benzene and mercury.  Most recently prostrate cancer was added.  Cancers were added to compensable injuries following a study finding that first responders are 19 per cent more likely to suffer cancer than those in the general population.
Please contact us for a free consultation if you have any questions about whether your  disease may be compensable as one suffered as a result of exposure to toxic conditions caused by the 9/11 terrorist attacks.